Today, 100% of every dollar donated to the Zach Sobiech Osteosarcoma Fund goes directly to osteosarcoma research for better treatments and cures. A special thank you to the Sobiech Family, KS95, SPIRE Credit Union, Wayfarer Foundation and the countless fundraisers and donors for their steadfast support and dedication to continue Zach's legacy.
"I want to be remembered as the kid who went down fighting and didn't really lose."
ZACH SOBIECH
Treatments for osteosarcoma, the cancer that took Zach too soon, haven't improved in decades. Zach wanted his legacy to change that. 100% of all donations to the Zach Sobiech Osteosarcoma fund go to research for better treatments for this deadly cancer.
Current total raised:
"Zach was so committed to wanting to change things for the future. My goal is to always have something to offer patients with osteosarcoma, and Zach is the driving force behind that." - Brenda Weigel, MD, MSc, Zach Sobiech's oncologist
Donate
Zach's Story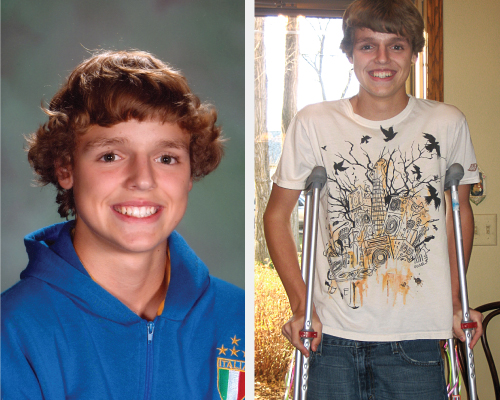 2009
Summer: Zach is diagnosed with osteosarcoma at 14 years old.
December: Zach began protocol chemotherapy for osteosarcoma at University of Minnesota Masonic Children's Hospital.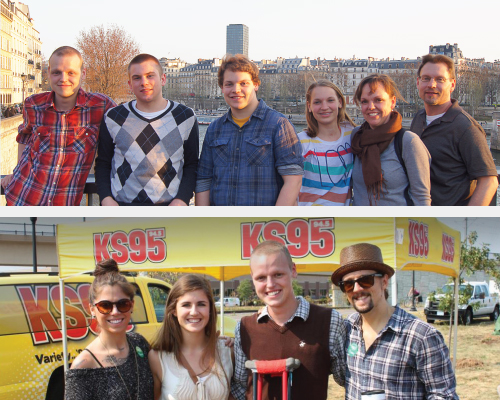 Early 2012
March: Zach's family travels to Rome, Lourdes and Paris. Zach's hip begins to hurt again.
June: Doctors found the cancer had spread to Zach's pelvis and lungs. Zach and his family were told that he had between 6 months and a year to live.
July: Zach did an interview for KS95 for Kids, which helped raise awareness for Children's Cancer Research Fund.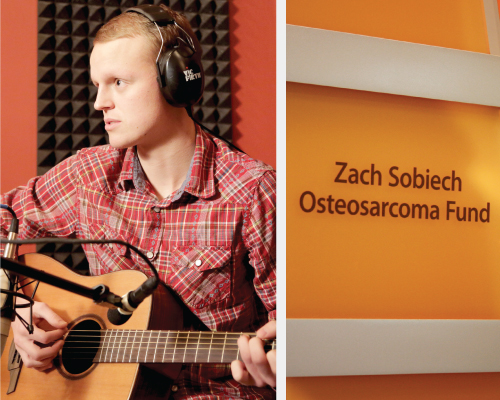 Late 2012
September: Zach decided to write a series of songs to say goodbye to friends and family, the most famous of which is "Clouds."
November: The Zach Sobiech Osteosarcoma Fund is established at Children's Cancer Research Fund.
December: "Clouds" is played on the radio for the first time and the video goes viral, garnering over 2 million hits by New Year.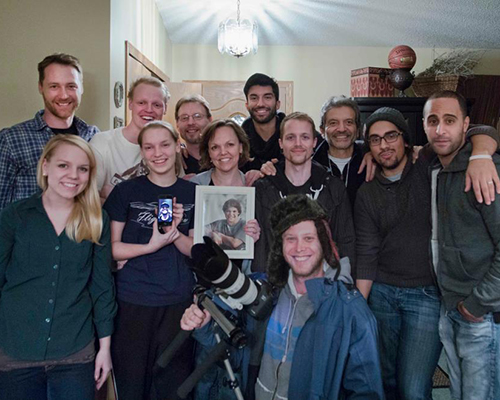 Early 2013
February: Justin Baldoni and his company, Wayfarer Entertainment, spend a week with the Sobiech family to film a documentary called Meet Zach Sobiech: My Last Days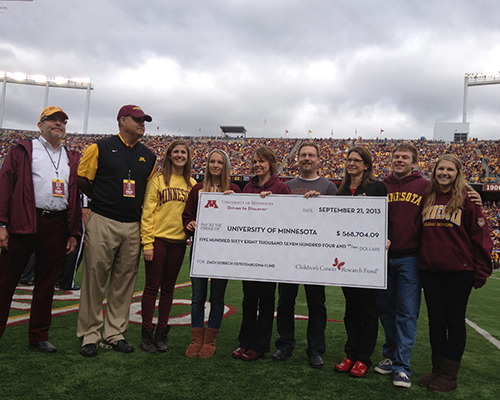 Late 2013
May: Zach passes away from osteosarcoma, surrounded by his family and friends. Later that week, Zach's fans pushed "Clouds" up to #1 on iTunes.
June: The Sobiech's meet with osteosarcoma researchers for the first time and present $500K raised through Zach's music and donations to the Zach Sobiech Osteosarcoma Fund.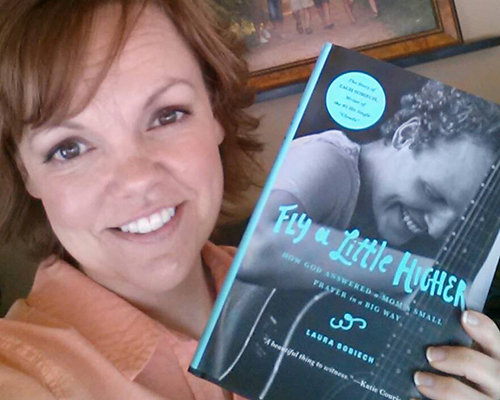 2014 & 2015
May 2014: Zach's mom Laura releases her book, "Fly a Little Higher," detailing her family's experience during Zach's battle with osteosarcoma.
September 2015: Zach's fund hits $1 million.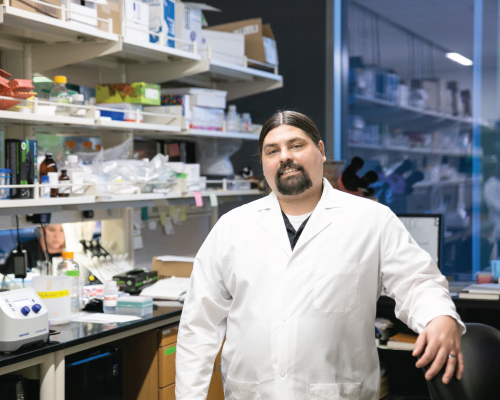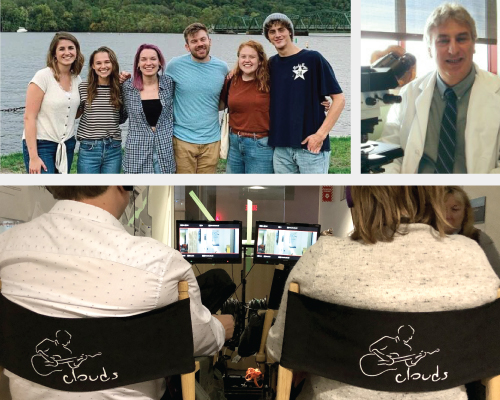 2019
Summer: Finn Argus, the actor who plays Zach in "Clouds" the movie, visits Zach's family in Stillwater, MN. Read more here.
September: Jaime Modiano, begins work to develop a blood test to help doctors decide how better to treat osteosarcoma.
November: Zach's family visits the set of "Clouds" movie in Montreal, Canada. The "Clouds" logo was created using Zach's own handwriting.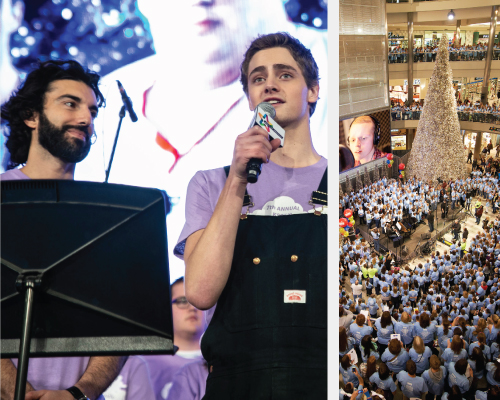 2019
December: "Clouds Choir" for a Cause raises over $100K for the Zach Sobiech Osteosarcoma Fund. Thousands gathered at the Mall of America to sing "Clouds," including Zach's family, the "Clouds" movie cast and director Justin Baldoni. Watch the video here.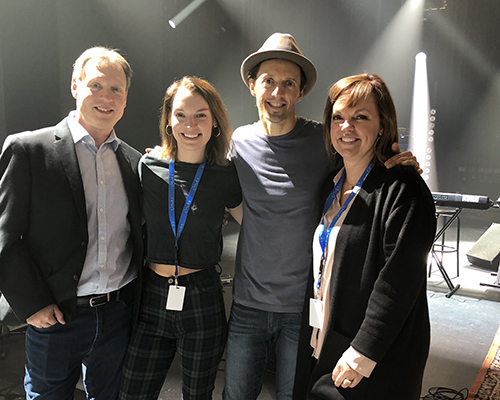 2020
October: "Clouds" the movie is released for streaming on Disney+.
Seventy of Zach's friends and family act as extras in two of the scenes.
SHOW YOUR SUPPORT FOR BETTER TREATMENTS AND CURES FOR KIDS FIGHTING CANCER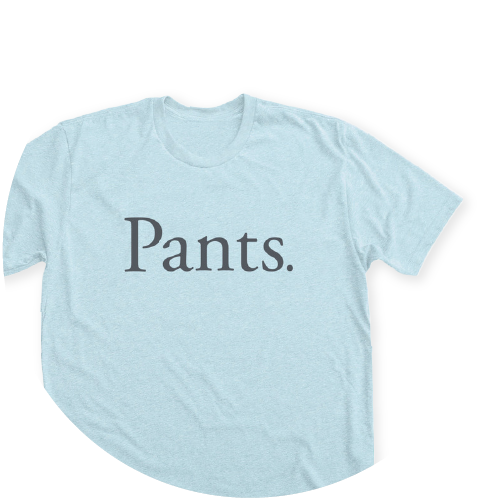 ---
PANTS SHIRT
Zach's "Pants" shirt, as seen in the movie "Clouds," was one of his favorites. Buy your own today - 100% of the proceeds will benefit Zach's Fund.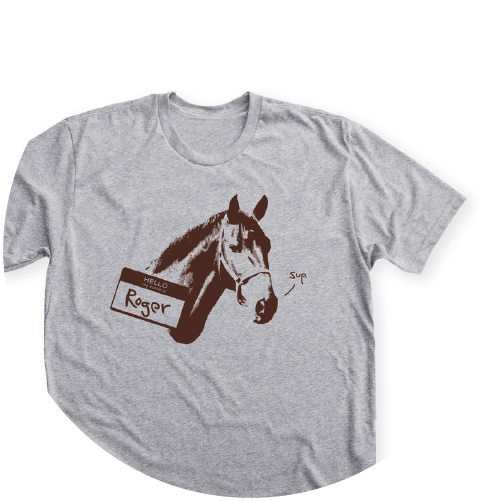 ---
ROGER SHIRT
This shirt is inspired by Zach and Amy's musings about getting a horse named Roger. Purchase yours and 100% of the proceeds will benefit Zach's Fund.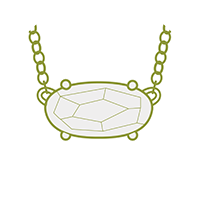 THE CLOUDS NECKLACE IS BACK! 20% OF YOUR PURCHASE SUPPORTS RESEARCH
In continued partnership with Kendra Scott, the Clouds necklace is back with 20% of proceeds from April 15 to May 15 going to the Zach Sobiech Osteosarcoma Fund. On May 15, the Kendra Scott store at the Mall of America will donate 20% of sales that day to Zach's Fund. Shop this special piece just in time for Mother's Day!
---
---
---
Move this research forward with data
Osteosarcoma researchers need more data to continue to develop better, safer treatments. If you or a loved one has osteosarcoma, click here to explore how you can participate in research studies that will fuel future breakthroughs.
---
BE IN THE KNOW - JOIN OUR EMAIL LIST
"*" indicates required fields
---
Zach showed the world that you "don't have to find out you're dying to start living." Through his #1 song "Clouds," he inspired millions.
Check out the Clouds YouTube channel
for inspiring music videos, documentaries, covers, Cloud's Choir videos and more!