Your donation supports the innovation and promising research that will one day cure childhood cancer. See what we fund.
This is the story of
You can be a part of their story.
When you meet 18-year-old Allison, you might notice her short and sassy haircut or her wide, generous smile. You might notice the tattoo on her...
---
Support Lifesaving Research
Your support will create better, safer treatments for children facing cancer for years to come.
Make a Plan
---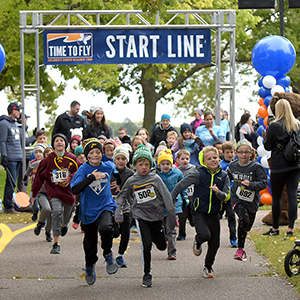 Raise money for better treatments while connecting with others who are affected by childhood cancer.
Register Today
---
Join us at the Mall of America on December 13 where we gather to sing Zach Sobiech's hit song, "Clouds" and celebrate the strength of kids fighting cancer. Register today!
Learn More
---
The Zach Sobiech Osteosarcoma Fund
Zach and his family helped start the Zach Sobiech Osteosarcoma Fund at Children's Cancer Research Fund. Directed proceeds from his music and other fundraisers help researchers tackle osteosarcoma.
Learn More