Your donation supports the innovation and promising research that will one day cure childhood cancer. See what we fund.
This is the story of
You can be a part of their story.
Susan Doherty's son Elliott was diagnosed with hepatoblastoma at age 11. Susan now sits on the Children's Cancer Research Fund Board of Directo...
---
Support Lifesaving Research
Your support will create better, safer treatments for children facing cancer for years to come.
Make a Plan
---
Join a community whose efforts are raising money for better treatments.
Register for Free
---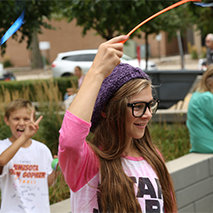 Join us for a family picnic in Saint Paul on Aug. 26!
RSVP Today
---
The Zach Sobiech Osteosarcoma Fund
Zach and his family helped start the Zach Sobiech Osteosarcoma Fund at Children's Cancer Research Fund. Directed proceeds from his music and other fundraisers help researchers tackle osteosarcoma.
Learn More