We believe that kids fighting cancer deserve creative outlets that let them dream big and preserve their legacy.
We are partnering with musician James Orrigo to provide three unique opportunities to
bring to life the imaginations of kids fighting cancer.
Big Dreams Virtual Tour
James sends a virtual reality device to the child's home or hospital room so he can "meet" them in a virtual space to write a song and explore a virtual reality world inspired by the child's imagination. This process gives the child control over their environment using exciting new technology.
Big Dreams School Tour
James brings a child's original song, which James helps them create, to a classroom of students, who will create the props, sets and music needed to create a music video that will bring the child's song to life.
---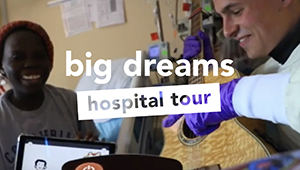 ---
Our hospital tour was the first of our Big Dreams programs to launch, but we have postponed the hospital tours for the time being due to COVID-19. Please see the videos below for creations made in past years.
the big dreams tour is nationwide