In 2006, Mary, a strong and talented track runner, was slated to head off to her first year of college. She visited her doctor for the required standard physical check-up. But this exam turned out to be far from routine, and it would forever change the lives of Mary and her family.  
During the appointment, the physician discovered a mass in Mary's abdomen. A week later, she underwent a harrowing surgery that stretched six hours over the expected length. The result was news that Mary's tumor was cancerous. 
Just weeks ago, she'd been running track meet after track meet and breaking records.
Throughout the next 4.5 years, Mary would endure chemotherapy, multiple bone marrow biopsies and two bone marrow transplants as treatment for her ganglioneuroblastoma, a rare cancer that occurs mainly in infants and young children. When Mary's treatment began, her parents — who are both physicians — didn't expect that her care would be so antiquated.  
"I said to Arden, 'I bet we're not going to even recognize any of the drugs that they use, because it's been so long since we've been out of residency,'" said Patti, Mary's mom. "But they were old, ancient drugs — stuff they've been using on adults for years. No progress had been made in all those years. We were appalled." 
Eventually, Mary relapsed with a secondary acute myeloid leukemia (AML) tumor that was a result of her chemotherapy treatment. It was then that she and her family recognized their days together were dwindling.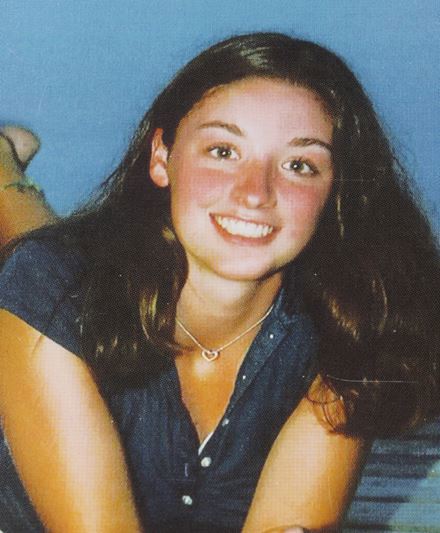 For the last visit to her college campus, Mary could no longer walk; Mary's dad, Arden, pushed her in a wheelchair. During treatment, she'd lost her waist-length hair, which she would always throw back into a ponytail for her high school track meets. Now, in place of those long locks, she donned a bandana. 
As Arden wheeled Mary around campus, he was struck at the number of people who greeted her with an enthusiastic "Hey, bandana, you're back!" She'd only gone to college for about two years, but her impact was clear. 
Although Mary passed away on Thanksgiving Day in 2010, this impact has become an ever-present legacy. 
One of Mary's younger brothers, Zach, is getting married in October, and a portrait of Mary will process up the aisle during the ceremony. Arden remembers the first time he saw the finished portrait.  
"Unlike any photograph of her, that portrait captures her eyes… the beautiful green," he said. "Zach likes [the portrait] because it's not perfect, and Mary would be the first one to tell you she wasn't perfect. But it expresses her so well." 
Two of Mary's college friends also had her in attendance at their weddings in the form of a photograph. Earlier this year, Arden and Patti learned that another college friend named her daughter after Mary. 
"Even though the hole will never go away, there are parts that are so loving and positive that go on. Knowing that she is still remembered is so important to a parent," said Arden. 
When it comes to remembering Mary, Arden welcomes the company. His own tribute to Mary has been in the form of riding miles and miles on his bike. 
During Mary's first transplant recovery phase, she'd come across a story about two dads who were riding their bikes across the country to raise money for childhood cancer research. Arden remembers Mary's excitement about the prospect of her doing this with him, and he told her they would after her cancer was gone.  
That day never came, but Arden stayed true to his promise. Five years after Mary's death, he signed up for Great Cycle Challenge, an annual cycling challenge that raises funds for childhood cancer research. Since committing to the challenge, he has ridden more than 8,000 miles and raised more than $110,000 for Children's Cancer Research Fund's mission. 
And though it may not be in the way Arden and Mary originally envisioned, Mary's still accompanied Arden on those cathartic rides. 
The first year, Arden rode a tandem bike, saving a seat for Mary behind him. Her "warrior stick," created and given to Mary by her aunts at the start of treatment, joined him another time. A teddy bear sporting Mary's T-shirts and jerseys rode with him during another challenge year. 
"Every year, I keep thinking it's going to be different," said Arden. "But every year, the first week when I leave [to ride] in the mornings, they're usually filled with tears." 
The tears are worth some of the beautiful moments Arden's experienced during his rides, like the time he climbed an incredibly steep incline. At one point, he stopped, tearing off his jersey from overheating. But it was at this moment he looked behind him, seeing a wondrous landscape filled with gorgeous light. 
It made him realize that "what's behind you is behind you," he said. "The road in front of you is challenging but you have this beautiful experience around you that you need to live in." 
Time hasn't dulled the profound loss Arden and Patti feel with Mary's absence, but they've been adamant with turning their pain into purpose.  
"Mary, as an adult pediatric cancer patient, could have a voice for the children who didn't have verbal skills yet," Patti said. "She felt that it was important that she was an advocate and a spokesperson so she could tell the story that they couldn't. That was her legacy, and we need to continue that." 
One of the best ways you can help a family facing childhood cancer is to start a fundraiser to raise money for better, safer treatments for kids like Mary. Challenge yourself to ride throughout September and raise funds to end childhood cancer and save little lives.