When childhood cancer survivor Ted Sibley finished his cancer treatment as a teenager, he received a t-shirt that said, "Finish Line." He was proud to have reached the end of a long and difficult period of treatment – but his journey didn't end there. Ted faced late-effects from his cancer treatment, and often didn't know where to go to get specialized survivorship care. 
In early 2021, CCRF launched the Dream Further campaign to raise $2 million for much-needed survivorship research and care coordination. In November 2021, with the help of a passionate community of supporters, the Dream Further campaign reached its ambitious goal. The board of Children's Cancer Research Fund has committed to matching this $2 million, meaning that $4 million will be used to establish the Katie Hageboeck Clinic and Innovation Fund. This fund will jumpstart survivorship research and care coordination at the M Health Fairview Masonic Children's Hospital to ensure kids not only survive cancer today, but they also thrive and enjoy long, healthy lives. 
 The Dream Further campaign honors CCRF's 40-year history – the organization began with a request by 13-year-old Katie Hageboeck, who asked that the money she'd saved for a bicycle be donated to cancer research. Katie passed away from leukemia in 1979. 
"Forty years ago, we watched the incredible community that our daughter, Katie, inspired at the first Dawn of a Dream gala. Today, we're blown away to see the impact Katie's legacy continues to have through Children's Cancer Research Fund. Katie's light shines on through the survivors of childhood cancer – survivors who are with us today because of Katie's simple wish: to make treatments and cures possible for kids like her." - Diana and Norm Hageboeck, Founders, Children's Cancer Research Fund 
Why Survivorship? 
Over the past 40 years, the community that created Children's Cancer Research Fund has played a significant role in bringing the five-year survival rate for childhood cancers from less than 60% to over 80%. More children are surviving cancer than ever before.  

 "It breaks our hearts to meet a survivor who now has life-threatening health conditions directly related to their prior treatments, and we could have helped catch them before they became serious, or even better, prevented them altogether," said Dr. Karim Sadak, Director of the Cancer Survivorship Program at the M Health Fairview Masonic Children's Hospital. "CCRF donors provide the funding that allows us to create ways to never let a survivor slip through the cracks or get lost in the health care system. Together, we can make sure that children with cancer live their lives to the fullest and don't just survive, they thrive."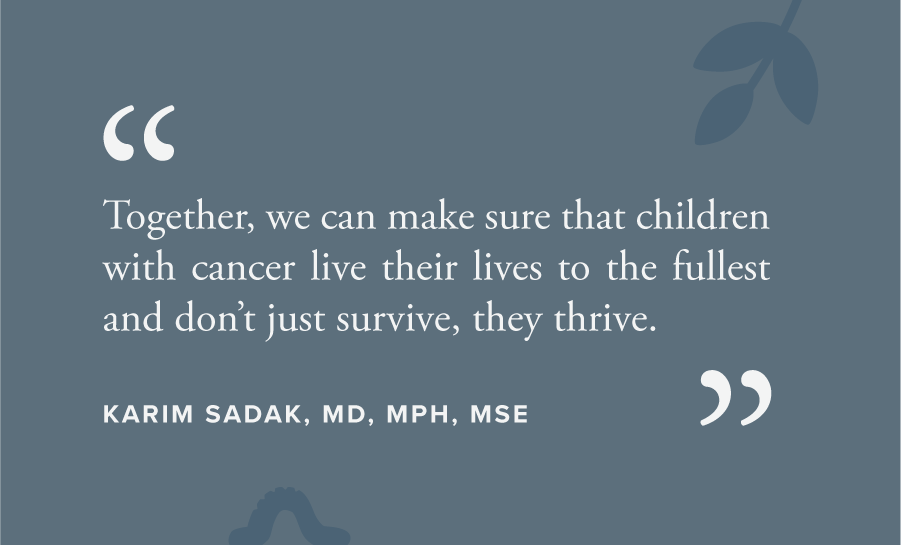 The Dream Further campaign will make groundbreaking work possible at the M Health Fairview Masonic Children's Hospital. 
In 2021, contributions to this fund will support two important goals of the hospital's survivorship program: 
Ongoing Research and Education - While we know survivors face unique challenges after their treatment is over, there is still much to learn about the many physical and mental health issues that may develop as they continue to age. The goal of survivorship research is to evaluate the best interventions that will improve the health and well-being of all childhood cancer survivors, helping establish new standards of care around the world. In addition, better understanding of survivorship issues will help doctors better care for patients currently in treatment for cancer.

 

Coordination of Care – A dedicated care team can help survivors keep track of their complicated medical histories, check progress and follow up with them about upcoming appointments, necessary tests and opportunities to participate in survivorship research studies. A lack of staffing capacity is a primary hurdle to survivors receiving the care they need as young adults, and getting survivors the care they need is imperative to successful research of survivorship issues and interventions.

 
Survivor Stories
Hear from survivors and their families about life after treatment, late-effects, and what we can do to ensure survivors aren't held back in our roundtable documentary hosted by Dr. Karim Sadak.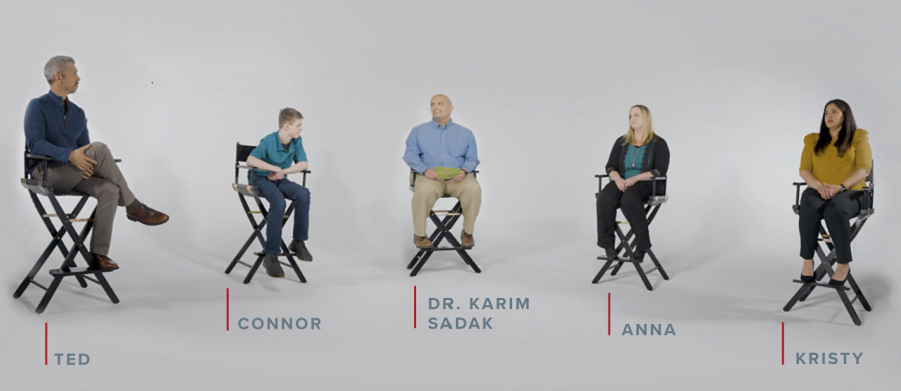 Ted vividly remembers being diagnosed with cancer at 13 – and not knowing how to find the right kind of survivorship care in his teens and 20s. Dealing with infertility caused by treatment felt like being diagnosed with cancer all over again. Now an Emergency Medicine doctor with five adopted sons, he wants to show other survivors the kind of life that is possible after cancer. Watch Ted's story.  
Connor, who underwent major brain surgery at just a few weeks old, is the oldest living survivor of his type of brain tumor. Now entering high school, he's worried that his seizures and hearing issues will get in the way of making new friends. Watch Connor's story.  
Anna survived osteosarcoma as a teenager, but her treatments left her with late effects that impact her every day. Even 18 years after her treatment ended, she experienced dangerous heart issues during her otherwise healthy pregnancy. Watch Anna's story.  
Kristy is mom to Liam, a leukemia survivor who finished treatment earlier this year. As she watches her son grow up and leave parts of his cancer experience behind, she grapples with the ways in which cancer will always be a part of his story. Watch Liam and Kristy's story.  
Our Partners
Thank you to our partners who helped the Dream Further campaign reach our $2 million goal, ensuring that promising research ideas can be pursued, and childhood cancer survivors get the care they need. 
The Dream Further campaign runs through the end of 2021. Every additional dollar raised means that more childhood cancer survivorship research projects can move forward.  
Donate Now