Capucine Van Rechem was still a teenager when cancer stole away both her parents. First her mother died of breast cancer, and then her father passed away from colorectal cancer just eight months later.
"I knew before that I was really a scientist at heart," she said. But suddenly, her vague plans to do something in the medical field crystalized into a new mission: to find better cancer treatments and ultimately spare other families the heartbreaking loss of a life taken too soon.
That mission fuels Van Rechem's innovative work as a researcher and assistant professor of pathology at Stanford University's School of Medicine. With support from an Emerging Scientist Award from Children's Cancer Research Fund (CCRF), she hopes to uncover new therapeutic options for rhabdoid tumors, a rare and aggressive form of cancer that most commonly affects the kidneys or brain tissue of infants and toddlers. Most children survive less than a year after diagnosis.
"Losing someone to cancer at any age is terrible, but losing a child is even worse," she said. "I have a young daughter, and I think she would say, 'That is not fair.'"
So day after day, Van Rechem returns to the lab bench in search of answers. She's interested in epigenetics, or how changes in gene function (due to environmental influences or other factors) can lead to disease.
"There is an urgent need to decipher the biological roles of epigenetic factors in order to shed light into new therapeutic opportunities," she said. "I believe that to be able to cure cancer, we first need to understand it."
Clues might be found in mSWI/SNF complexes, a group of proteins that are altered in more than 40% of adult and pediatric cancers and that might also play a role in treatment resistance. These complexes are altered in all rhabdoid tumors. Van Rechem's study is focused on the SMARCB1 gene, which is thought to be a tumor suppressor and is mutated in 95% of rhabdoid tumors, causing an absence of the SMARCB1 protein. The remaining 5% of rhabdoid tumors have a mutation in the SMARCA4 gene, which is another part of mSWI/SNF complexes.
Previous research has focused on the activity of epigenetic factors in the cell nucleus, but Van Rechem's lab discovered that mSWI/SNF complexes are involved in dysfunction outside the nucleus, too — functions that no one had ever looked at before. "In other words, we revealed a potential Achille's heel for these cancers in another cell compartment: the cytoplasm," she explained. "What's interesting is most of the time a drug targets a protein, and the role we're looking at is protein synthesis. So if we find which proteins are differently synthesized when we have those certain mutations, then it will be faster to translate [this research] into the clinic."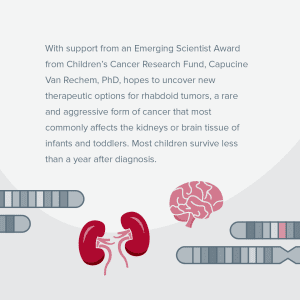 But first, she needs to better understand what happens when SMARCB1 is altered or deleted.
"That specific gene is also involved in other childhood cancers that arise in the same organs, so we're focused first on rhabdoid tumors, but ultimately what we find there will be applicable to a lot of different types of childhood cancers," she noted.
Van Rechem's work is motivated by both head and heart. "What really drives me is two things. It's the pure science: we're discovering something really new that no one else is looking at. We're establishing a new scientific niche. This is really exciting," she said. "The other part is because I'm doing science to help people fight this disease."
A native of France, Van Rechem decided to start her career in the United States because she thinks there's more opportunity to pursue unconventional paths in science. Colleagues have described her as "highly creative" and "fearless," and she loves the thrill of mapping uncharted territory. "I do like thinking outside of the box, what's considered in science as higher risk, high reward," she noted. "Sometimes you could fail. It's less risky to focus on what's already known. But I really like new things that no one has studied before. This is what's awesome about being a scientist — we're learning every day."
The unconventional path can be a harder one, especially for a young researcher who is still establishing her career. "Philanthropy is extremely important in my case," she said. "Grants from foundations not only allow us to start a specific project, but they also let us show that we can get funding, which helps when we apply for larger government grants. It's not only about the science you're doing, but can you bring money into your lab. It's also great because a lot of the times these foundations believe in the person, so even if the project is a little less established, they give us a chance."
And Van Rechem believes it's a chance worth taking. "There really is no treatment for rhabdoid tumors so there's a real need to find anything that can help in children," she said. "I believe that this project has a very, very strong probability that it will work."