Above: Chris and Christine McArdle with their daughter, Cora, and Brice Bear, a teddy bear representing their son Brice, who passed away from cancer.
On April 21, Chris McArdle took the stage at Dream, CCRF's annual gala, and spoke about his son, Brice, who passed away from a brain tumor when he was just 17 months old. Sitting on the podium while Chris spoke was Brice Bear, a teddy bear that was created in remembrance of Brice. It sits alongside his little sister in family photos, reminding everyone who sees it that Brice's short life mattered.   
Watch Brice's Story, which was shared at Dream, here. 
Now, thanks to James Orrigo, creator of our Big Dreams program, an augmented reality version of Brice Bear is raising awareness for brain tumor research.   
Brice's family, and anyone else who wants to, can add Brice Bear to their photos and videos using augmented reality. Brice's parents Chris and Christine have seen the impact that sharing Brice's story can make, and they're excited that their son's life can touch even more people, inspiring them to make the journey better for kids who are diagnosed after him.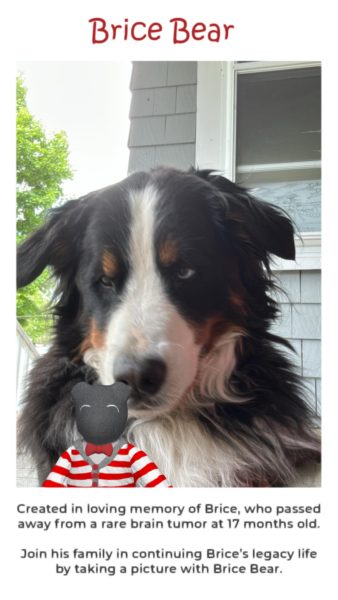 "This bear wears one of our favorite outfits of Brice's, and it takes his place next to his little sister, Cora. This bear is just one of the ways we keep his legacy alive."  
James Orrigo is experienced at taking meaningful pieces of a child's experience and amplifying them to raise awareness for childhood cancer research – this augmented reality Brice Bear is just his latest innovation.   
James is the creator of Big Dreams Virtual Tour, a family program that gives the children with cancer the opportunity to create their own animated music video, video game, virtual reality experience or even a VFX video. This process gives the child control over their environment using exciting new technology. 
"After hearing Brice's story at Dream and seeing how much care there is behind his special bear, we knew we could use technology to bring it to life. My teammate Priyanshi Jain and I 3D-scanned Brice Bear and brought it to life with augmented reality. Now, people from around the world can take photos with Brice Bear, share Brice's legacy and help bring awareness to childhood brain cancer. Brice Bear can wave or sit perched on your head and shoulders in your photos and videos- a small gesture that we hope brings a smile to the family during tough days."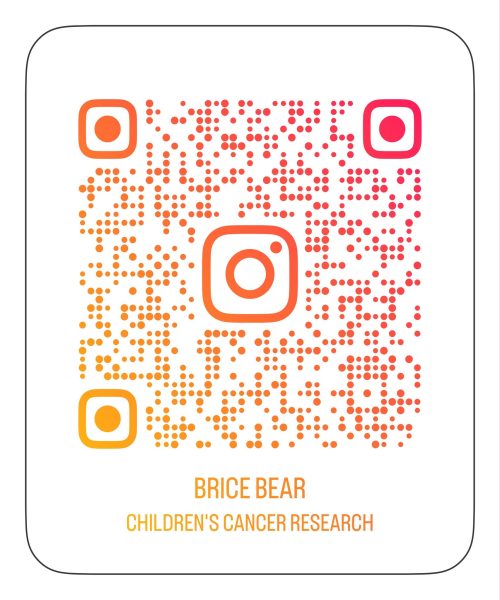 TO ADD BRICE BEAR TO YOUR PHOTOS AND VIDEOS, SCAN THE QR CODE TO ACCESS THE AR EXPERIENCE ON INSTAGRAM @ChildrensCancer with your Brice Bear creations and share how far Brice Bear can go. Instagram account required. 
When Brice was diagnosed, doctors told his parents there was very little research on his type of brain tumor. Researchers have the ideas and skills needed to find better treatments and cures for kids fighting brain tumors . Brice's family is fundraising to support this research - but they can't do it alone. Your donation will help move these incredible ideas forward. 
Make a Donation